Just A Little About Us


In 2001 a group of farmers built the Cedar Valley Produce Auction by the town of Elma in northeast Iowa, and in the following years it has grown and now sells over $3 million annually! Selling flowers in the spring and then produce in the summer. All produce and flowers are grown locally and sold at the auction. The Auction Method is the fairest way to sell, as it creates a true supply and demand environment.
The Cedar Valley Produce Auction is a supplier of fresh produce, flowers, vegetables, and some bulk foods. All produce is locally grown and supplies farmers markets in 3 states! The auction also supplies local produce it wholesale prices. In the spring the Auction sells flowers in flats, and hanging baskets and mid summer changes over to sell fresh produce.
Wholesale produce auctions have been successfully operated for a long time. New Jersey was one of the first states to have a produce auction. Pennsylvania now has six auctions, with other auctions being held in New York, Kentucky, Ohio, Wisconsin, and Missouri.
For the larger buyers who don't have time to attend the auction, there will be an experienced order buyer available to buy his fresh produce, flowers, hanging baskets, and vegetables and also to get it loaded and delivered to his farmers market or place of business. There will be a 3% buyers fee charged for order buying as it takes extra effort to buy the product and see that it get loaded on the truck for delivery. Charges for delivery are extra.
---
The Auction is open to the public!!!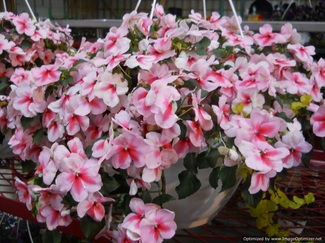 Many of the local farmers gather here at the Produce Auction to sell their flowers and fresh produce!
Auction Hours:
Monday Closed
Wednesday Closed
Friday 1:00PM Hay Sale
---
---
---
​
Announcements

:


---